Air Duct (Rarity: 15)
Description missing.
Properties
None
Data
Type
Wallpaper - Background
Chi
Unknown
Texture Type
4 Directional
Collision Type
No Collision
Hardness
4 Hits
3 Hits
Restores after 2s of inactivity.
Seed Color

#707070
#8C8C8C

Grow Time
1h 3m 45s
Default Gems Drop
0 - 3
Paint Preview
None
Red
Yellow
Green
Aqua
Blue
Purple
Charcoal
Sneak around in these to find the secret documents. Nobody knows why they build them human-sized!
The Air Duct is a wallpaper added during the Block Party event. It resembles a darker shade of Grey Wallpaper in the inventory, but when you place two next to each other, they form a continuous pattern that inserts 'steel joints' like shown on the picture below.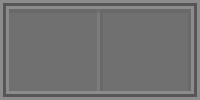 Recipe
Splicing
The tree of this item can be made by mixing the following seeds:
Community content is available under
CC-BY-SA
unless otherwise noted.