Alien Block (Rarity: 22)
This block is made from elements that don't even occur in our galaxy.
Properties
This item never drops any
seeds
.
Data
Type
Block - Foreground
Chi
Wind
Texture Type
Single
Collision Type
Full Collision
Hardness
8 Hits
6 Hits
Restores after 8s of inactivity.
Seed Color

#ACACAC
#95ED1F

Grow Time
3h 8m 28s
Default Gems Drop
0 - 4
The tree of this item can be made by mixing the following seeds:

Unknown Item
Dark Green Block Seed
The
Alien Block
is a block introduced during
Night Of The Comet
. It can only be spliced during
Night Of The Comet
. When placed, it flickers from light green to dark green.
Gallery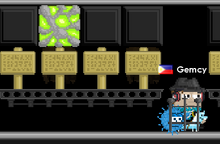 Community content is available under
CC-BY-SA
unless otherwise noted.