Axe Of Winter
Mittens are recommended when wielding this icy monstrosity, which does extra damage to blocks.
Properties
This item never drops any
seeds
.
This item can kill zombies during a Pandemic!
Data
Type
Hand - Clothes
Chi
None
Texture Type
Single
Collision Type
Full Collision
Hardness
0 Hits
0 Hits
Restores after 0s of inactivity.
Seed Color

#9FEDFF
#207A74

Grow Time
1h 0m 0s
Default Gems Drop
N/A
▶By Combining
Icy Axe Blade x2
Grip Tape x1
Steel Axe Handle x1 in any Chemical Combiner.
This recipe will give 1 item(s).
The Axe Of Winter was introduced during WinterFest 2015. It gives the Icy Axe mod. Snowflakes float around the axe when it is equipped.
Gallery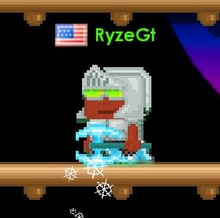 Community content is available under
CC-BY-SA
unless otherwise noted.