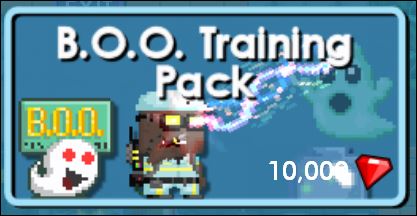 The B.O.O Training Pack is one of the packs in the Growtopia Store and introduced in 15 July 2016, it costs 10,000 Gems.
This pack includes:
The Spectral Goggles allows you to see ghosts in a haunted world. And Neutron Gun allows you to shoots some kind of electromagnetic pulse (Requires Neutron pack to use.)
Recipe
Growtopia Store
Purchase the B.O.O Training Pack for 10000
in the Growtopia Store.
"It looks like Growtopia is under siege by the ghosts! Well, Battlers of the Otherworldly are hiring! You'll have to earn your uniform, but this pack includes all the tools you need to actually capture ghosts! You also get Rare Spectral Goggles (all the better to see them with!), a Neutron Gun and a Neutron Pack to corral the ghosts, and a set of 10 Ghosts Jars to catch them in."
Community content is available under
CC-BY-SA
unless otherwise noted.