Psst, I think there's a bee in your hair...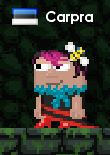 Added on the 20th of September as a new clothing. Its appearance is like a bee stuck to your hair, or probably a bee hairpin.
Rarity: 42
To grow, splice a Path Marker Seed with a Tiger Block seed.
This item never drops any seeds.