Blacksmith's Apron
This apron is made of heavy leather, making it very effective for protecting you from stray sparks when forging things.
Properties
This item never drops any
seeds
.
Data
Type
Chest - Clothes
Chi
None
Texture Type
Single
Collision Type
Full Collision
Hardness
0 Hits
0 Hits
Restores after 0s of inactivity.
Seed Color

#3F302D
#57403B

Grow Time
1h 0m 0s
Default Gems Drop
N/A
▶By Compacting
Any Splicable Clothing
In a Clothing Compactor
The Blacksmith's Apron is a clothing item which is required to be worn when forging any item on an Anvil.
Gallery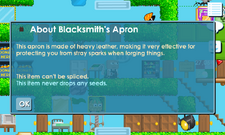 Community content is available under
CC-BY-SA
unless otherwise noted.