Checkered Pajamas (Rarity: 25)
Don't be embarrassed to play Growtopia in your pajamas. Other players are wearing Fairy Wings.
Properties
This item never drops any
seeds
.
Data
Type
Shirt - Clothes
Chi
None
Texture Type
Single
Collision Type
Full Collision
Hardness
0 Hits
0 Hits
Restores after 0s of inactivity.
Seed Color

#C9FFF2
#85FBAE

Grow Time
4h 32m 55s
Default Gems Drop
0 - 5
The tree of this item can be made by mixing the following seeds:

The Checkered Pajamas is a splicable shirt item.
Gallery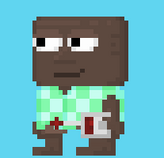 Community content is available under
CC-BY-SA
unless otherwise noted.