Crazy Jim
Description missing.
Properties
This item can be placed in two directions, depending on the direction you're facing.
This item never drops any
seeds
.
Data
Type
Block - Foreground
Chi
Unknown
Texture Type
Single
Collision Type
No Collision
Hardness
5 Hits
4 Hits
Restores after 4s of inactivity.
Seed Color

#2D8A9F
#FFE33F

Grow Time
1h 0m 0s
Default Gems Drop
N/A
Paint Preview
None
Red
Yellow
Green
Aqua
Blue
Purple
Charcoal
NPC

"Punch me!"
This is an
NPC
, or a non-player character.
Not a real item, just for an icon in the telephone screen.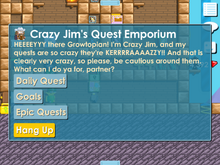 Crazy Jim' is an NPC added on the System Update. He can gives daily quests, life goals, and epic quests when phoned. Using a telephone you can dial his phone number which is 12345.
Quests
Daily Quests
I guess some people call me Crazy Jim because I'm a bit of a hoarder. But I'm very particular to what I want! And today, what I want is this:
In Daily Quests, the player needs to deliver Crazy Jim lots of seeds, particularly low-tiered seeds. Growtopians need to deliver 2 types of items (blocks, seeds, clothes) to Crazy Jim, the amount ranges from 1-200. The quests automatically resets at 00.00 GT time, hence the name Daily Quest. When completed, a Growtoken is rewarded to the player. This quest can only be done once a day.
Life Goals
What's crazy about wanting to better yourself through positive thinking, affirmation, and putting peanut butter in your ear? NOTHING, that's what! That's why I'm here to guide you through life. I've been around, and I think it's safe to say I know what's best. You keep on trucking with these Life Goals and I'll make detailed notes of your accomplishments in my tin foil journal. Each one you complete will raise your Awesomeness level and earn you a prize. The more awesome you are, the harder the goals, and the bigger the prizes.
Life goals are like Mini Quests you need to finish to raise your Awesomeness level, each quest you complete gives you a specific prize. You will get 3 life goals a day and will be reseted at 00.00 GT time and they can be any one of the following:
Defeat X players in a Game
Harvest X providers
Smash X rarity of blocks
Smash X blocks
Deliver X of (blocks, clothing or even non-rarity items like World Locks)
Harvest X rarity from trees
Plant X rarity of seeds
Earn X XP
Sew X items
Defeat X villains from crimefighting
Catch X lb of fish
Deliver X gems
Find X radioactive items with a Geiger Counter
Forge X items
Trap X lb of sea life in lobster traps
Earn X Growtokens (buying doesn't count)
The prizes are random rarity seeds, random amounts of gems and experience. Each completed life goal grants the player 1% Awesomeness. The higher your Awesomeness level is, the harder the life goals, and the bigger the prizes, also needed for an epic quest.
Epic Quests
"Epic Quests are the ultimate goals in Growtopia. It will take you thousands of hours and absolute dedication to complete all. But it you can complete all of these - while maintaining a clean record of behavior - we'll make you your own original in-game item!"
Community content is available under
CC-BY-SA
unless otherwise noted.