Dame's Fedora (Rarity: 85)
You're a real firecracker, I tells ya! You're one feisty dame!
Properties
This item never drops any
seeds
.
Data
Type
Hat - Clothes
Chi
None
Texture Type
Single
Collision Type
Full Collision
Hardness
0 Hits
0 Hits
Restores after 0s of inactivity.
Seed Color

#292929
#5A5A5A

Grow Time
1w 0d 3h 17m 55s
Default Gems Drop
0 - 22
Splicing
The tree of this item can be made by mixing the following seeds:
Dame's Fedora
is a head item, introduced along with the
Gangland Style Pack
. It's appearance is like the
Fedora
with extra hair on it. It is also obtainable from the
Gangland Style Pack
.
Gallery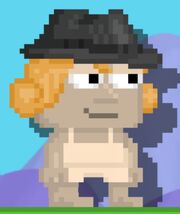 Community content is available under
CC-BY-SA
unless otherwise noted.