Derpy Star Block
DERP, IM A SUPERSTAR!
Properties
This item can be placed in two directions, depending on the direction you're facing.
This item never drops any
seeds
.
Data
Type
Block - Foreground
Chi
Unknown
Texture Type
Single
Collision Type
Full Collision
Hardness
10 Hits
8 Hits
Restores after 2s of inactivity.
Seed Color

#276CA3
#FFD515

Grow Time
1h 0m 0s
Default Gems Drop
N/A
Paint Preview
None
Red
Yellow
Green
Aqua
Blue
Purple
Charcoal
▶Available in Store
Derpy Star Block ( 30

)
DER IM A SUPERSTAR. This is fairly ordinary block, except for the derpy star on it. Note: it is not permanent, and it doesn't drop seeds. So use it wisely!
The Derpy Star Block is an unsplicable block that was added on Unicorn Madness update.
Gallery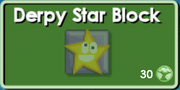 Community content is available under
CC-BY-SA
unless otherwise noted.