Donation Box (Rarity: 65)
Donation Box
Properties
This item has special properties you can adjust with the Wrench.
Data
Type
Donation Box - Foreground
Chi
Unknown
Texture Type
Single
Collision Type
Full Collision
Hardness
15 Hits
12 Hits
Restores after 4s of inactivity.
Seed Color

#4780AD
#FFE221

Grow Time
3d 4h 49m 35s
Default Gems Drop
0 - 17
Paint Preview
None
Red
Yellow
Green
Aqua
Blue
Purple
Charcoal
The tree of this item can be made by mixing the following seeds:

The Donation Box was released during the Home Pack update, but does not come with the Home Pack itself. When someone donates something it will say in the chat, "<name> has donated <amount of items donated> <items donated>." It formerly said "<name> has donated <amount of items donated> <items donated>. How nice!"
The Donation Box will only allow 20 gifts, once its full, no one can donate until a player has emptied the box.
When putting in items in your Donation Box, it will say "Choose items to give yourself"
Trivia
After you gifted the box 3 times, It will says:"Woah nelly,you don't want to be TOO nice. Try again later."
Also,when you use wrench on the box,the "screen" will says:
"You see N gifts in the box! You've already crammed 3 of your gifts into the box,better wait."
Gallery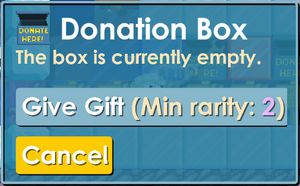 Community content is available under
CC-BY-SA
unless otherwise noted.