Doodad
I have no idea what this thing does. It's something electronic? Maybe?
Properties
This item never drops any
seeds
.
This item has no use... by itself.
Data
Type
Component
Chi
Unknown
Texture Type
Single
Collision Type
Full Collision
Hardness
2 Hits
2 Hits
Restores after 2s of inactivity.
Seed Color

#AEAEAE
#3FA81E

Grow Time
1h 0m 0s
Default Gems Drop
N/A
▶Available in Store
The Doodad is a component which is required to create the Legen Seed. It is one of the 6 machine parts.
Gallery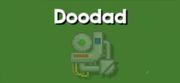 Community content is available under
CC-BY-SA
unless otherwise noted.