Door Mover
Use this fabulous device anywhere in a world you have world-locked to move the White Door to a new location. There must be an empty space where you tap and another empty space below it for this to work.
Properties
This item never drops any
seeds
.
Data
Type
Consumable
Chi
Unknown
Texture Type
Single
Collision Type
No Collision
Hardness
3 Hits
3 Hits
Restores after 4s of inactivity.
Seed Color

#DBDBDB
#F6C606

Grow Time
1h 0m 0s
Default Gems Drop
N/A
▶Available in Store
Door Mover ( 5000

)
Unsatisfied with your worlds layout? This one-use device can be used to move the White Door to any new location in your world, provided there are 2 empty spaces for it to fit in. Disappears when used. Only usable on a world you have World Locked.
The Door Mover is a consumable that allows the player to move the Main Door in a world-locked world. It was released on January 10th, 2014, the first Anniversary of Growtopia.
To use, players have to click where they want the main door placed (there must be an empty spot below it to work)
Gallery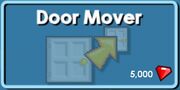 Community content is available under
CC-BY-SA
unless otherwise noted.