Emerald Pickaxe
This tool is worth more than the stuff you mine with it!
Properties
This item never drops any
seeds
.
Data
Type
Hand - Clothes
Chi
None
Texture Type
Single
Collision Type
Full Collision
Hardness
0 Hits
0 Hits
Restores after 0s of inactivity.
Seed Color

#FFD426
#E1FCE3

Grow Time
1h 0m 0s
Default Gems Drop
N/A
The Emerald Pickaxe was is a hand item released on the fourth day of the Player Appreciation Week 2017.
Trivia
Before the seventh day of Player Appreciation Week 2017, it was untradeable. Because it wasn't intended to be so, it was later made tradeable.
It gives the slashing effect instead of punching
Like the Golden Pickaxe, upon wearing it, it emits gold sparkles from the item itself.
Gallery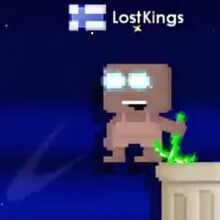 Community content is available under
CC-BY-SA
unless otherwise noted.