Line 1:
Line 1:
−

{{Item|Experience Potion|3 = Drink this fizzy potion to gain 10,000 XP instantly! Only works on yourself, no pouring it down other peoples' throats.}}{{RecipeStore|Experience Potion|10|T|This Untradable delicious fizzy drink will make you smarter! 10,000 XP smarter instantly, to be exact.}}The '''Experience Potion '''is a consumable item,which you can use on yourself to get 10,000 XP! It costs 10 [[Growtoken|Growtokens]] in the Growtoken Store. This item cannot be dropped or traded. It can only be used on the player who consumes it.

+

{{Item|Experience Potion|3 = Drink this fizzy potion to gain 10,000 XP instantly! Only works on yourself, no pouring it down other peoples' throats.}}{{RecipeStore|Experience Potion|10|T|This Untradable delicious fizzy drink will make you smarter! 10,000 XP smarter instantly, to be exact.}}The '''Experience Potion'''is a consumable item,which on 10, It costs 10 [[Growtoken]] the Growtoken Store. It can only be used the player who .

 
 
 

== Gallery ==

 

== Gallery ==

 

[[File:IMG 2778.JPG|thumb|242x242px|left]]

 

[[File:IMG 2778.JPG|thumb|242x242px|left]]

−
 
 

[[Category:Untradeable]]

 

[[Category:Untradeable]]

 

[[Category:Growtoken Items]]

 

[[Category:Growtoken Items]]
---
Revision as of 07:00, 30 October 2017
 Experience Potion
Experience Potion
PropertiesData
Type
Consumable
Chi
Unknown
Texture Type
Single
Collision Type
No Collision
Hardness
1 Hits
1 Hits
Restores after 1s of inactivity.
Seed Color

#00F2DE
#A47434

Grow Time
1h 0m 0s
Default Gems Drop
N/A
Growtopia Store
Purchase the Experience Potion for 10
in the Growtopia Store.
"This Untradable delicious fizzy drink will make you smarter! 10,000 XP smarter instantly, to be exact."
The Experience Potion is a consumable item, which when used on a player, gives them 10,000XP. It costs 10 Growtokens from the Growtoken Store. It can only be used n the player who owns the item.
Gallery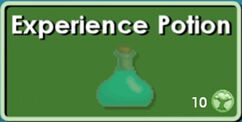 Community content is available under
CC-BY-SA
unless otherwise noted.