Face Bandana (Rarity: 31)
When you don't want anyone to recognize your chin, this is a perfect disguise.
Properties
This item never drops any
seeds
.
This item can be transmuted.
Data
Type
Face - Clothes
Chi
None
Texture Type
Single
Collision Type
Full Collision
Hardness
0 Hits
0 Hits
Restores after 0s of inactivity.
Seed Color

#0F33DB
#607AF2

Grow Time
8h 32m 1s
Default Gems Drop
0 - 8
The tree of this item can be made by mixing the following seeds:

The Face Bandana is a face item that was added on Wild West Pack update. It can also be obtained from purchasing said pack for 8,000 gems.
Gallery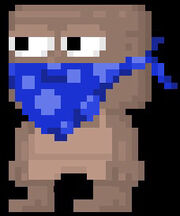 Community content is available under
CC-BY-SA
unless otherwise noted.