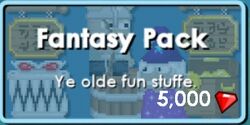 Store Info:
Hear ye,Hear ye! It's a Pack of magical wodners! You'll get a Mystical Wizard Hat Seed,a Wizard's Robe,a Golden Sword,an Elvish Longbow,10 Barrels,3 Tavern Signs,3 Treasure Chests,and 3 Dragon Gates
!
The Fantasy Pack is purchasable from the Growtopia Store for 5,000 gems. It has a chance to contain the below items:
Clothing:
-Elvish Longbow(has a mod)
Blocks:
Seeds:
Community content is available under
CC-BY-SA
unless otherwise noted.