Fiesta Sombrero
Take the fiesta with you everywhere you go!
Properties
This item never drops any seeds.
Data
Type
Hat - Clothes
Chi
None
Texture Type
Single
Collision Type
Full Collision
Hardness
0 Hits
0 Hits
Restores after 0s of inactivity.
Seed Color

#EBCCFF
#C9DEAE

Grow Time
1h 0m 0s
Default Gems Drop
N/A
▶ By Smashing
Mystery Pinata
With
Lucky Pinata Hat
inside.
The Fiesta Sombrero was introduced during Cinco De Mayo Week 2013.
Cinco De Mayo Week
2014: This item can only be obtained by placing a Lucky Pinata Hat inside a Mystery Pinata. 2013: This item could be obtained through simply breaking a Ultra Pinata.
Additional Info
This item sends streamers and confetti flying in all directions as you move about.
Gallery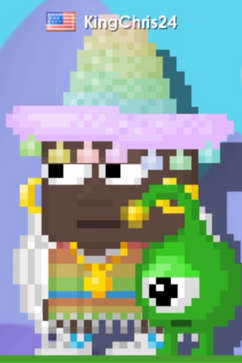 Community content is available under
CC-BY-SA
unless otherwise noted.