Funk Wizard Hat (Rarity: 65)
Description missing.
Properties
This item never drops any
seeds
.
A tree of this type can bear surprising fruit!
This item can be transmuted.
Data
Type
Hat - Clothes
Chi
None
Texture Type
Single
Collision Type
Full Collision
Hardness
0 Hits
0 Hits
Restores after 0s of inactivity.
Seed Color

#55159B
#1CDB26

Grow Time
3d 4h 49m 35s
Default Gems Drop
0 - 17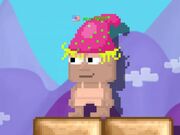 The Middle of the wizard hat tier. It looks like a party hat with clowny hair protruding from the sides of the hat.
There are 4 others of wizard hats.
Perfect for you party animals!
In-Game Description:
Wizard Hats comes in 5 classic styles,collect them all!
Rarity:65
To grow,Splice A Bookcase Seed with a Dreamstone Block Seed
This Item never drops any seeds.
A Tree of this type can bear surprising fruit!