Genuine Rings
Jenuine's a bit spacey.
PropertiesData
Type
Back - Clothes
Chi
None
Texture Type
Single
Collision Type
Full Collision
Hardness
0 Hits
0 Hits
Restores after 0s of inactivity.
Seed Color

#53EBFF
#A5F5FF

Grow Time
1h 0m 0s
Default Gems Drop
N/A
Unobtainable
This item does not have any recipe because it is no longer, or was never obtainable.
The Genuine Rings is an exclusive back item given to @Jenuine as a gift.
Trivia
Genuine Rings were based on the rings of Saturn, as Jenuine once stated that she had an interest in space.
The name was based on @Jenuine's genuine personality, as stated in her interview with WickEr10.
Gallery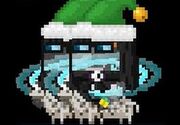 Community content is available under
CC-BY-SA
unless otherwise noted.