Ghostking's Glory
All ghosts flock to the holder of the Ghostking's crown. Stolen from his empty throne on the Other Side, this spectral crown proclaims you the true ruler of all ghostkind! Unfortunately, that means you're about to make a lot of booful buddies! At least... until the Ghostking finds you...
Properties
This item never drops any
seeds
.
Data
Type
Hat - Clothes
Chi
None
Texture Type
Single
Collision Type
Full Collision
Hardness
0 Hits
0 Hits
Restores after 0s of inactivity.
Seed Color

#92A1B9
#01BD85

Grow Time
1h 0m 0s
Default Gems Drop
N/A
Ghostking's Glory
is an unsplicable hat item introduced during the
Blocktor's Orders! update
. It is a possible prize from curing a person of the Ecto-Bones malady.
Function
When equipped, the player will be granted the Ghost Immunity: Ghostking mod, making them immune to the effects of Ghosts or Mind Ghosts.
Gallery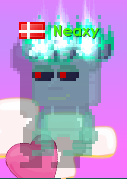 Community content is available under
CC-BY-SA
unless otherwise noted.