Green Bowtie
Bowties are cool.
Properties
This item never drops any
seeds
.
This item can be transmuted.
Data
Type
Chest - Clothes
Chi
None
Texture Type
Single
Collision Type
Full Collision
Hardness
0 Hits
0 Hits
Restores after 0s of inactivity.
Seed Color

#67E511
#428614

Grow Time
1h 0m 0s
Default Gems Drop
N/A
World Challenge Completion
Complete
BLARNEY.
Green Bowtie is a splicable neck item which was added in St. Patrick's Week 2013. It has a chance to be awarded as an additional reward for the first BLARNEY beaten in the day.
Trivia
Green Bowtie is the first neck item in Growtopia.
The item's description is a reference to the Doctor Who television series, in which the Eleventh Doctor proclaims, "Bow ties are cool," as a running gag.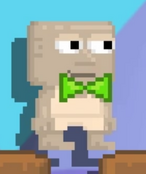 Community content is available under
CC-BY-SA
unless otherwise noted.