Grimstone (Rarity: 7)
The bleakest of stones.
Properties
None
Data
Type
Block - Foreground
Chi
Earth
Texture Type
4 Directional
Collision Type
Full Collision
Hardness
5 Hits
4 Hits
Restores after 5s of inactivity.
Seed Color

#2E3E35
#2F5325

Grow Time
9m 13s
Default Gems Drop
0 - 1
Paint Preview
None
Red
Yellow
Green
Aqua
Blue
Purple
Charcoal
The tree of this item can be made by mixing the following seeds:

Grimstone is splicable foreground block which was added alongside the addition of the Dungeon Pack. 20 Grimstones can be obtained from purchasing the pack.
Trivia
Placing 2 Grimstones next to each other will cause them to connect, thus creating a continuous pattern.
Gallery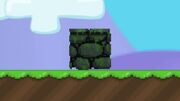 Community content is available under
CC-BY-SA
unless otherwise noted.