Welcome
The Growtopia Wiki is a free encyclopedia about Growtopia that anyone can edit, including you! We have 5,977 articles and counting since 12 December 2012.
The Growtopia Gazette
October 16th: Wonder Week: Lightning Umbrella!
Get ready for a wonderful and exciting week ahead with Wonder Week! Between October 11th and 17th, we will release a brand new cosmetic item in the game, which can be bought in the store and will also be available by participating in different game activities!
Day 6, filled with a top pick! Whether rain or shine this is the item for you! The Lightning Umbrella is simply the deadliest umbrella in the entire universe! The electrical charge stored within is barely contained as it pops and crackles in anticipation of releasing its deadly charge! It certainly gives a nasty shock to any block and is probably massively dangerous if it gets wet!
Please make sure to read Morse's Dev Diary to find out more!
The Royal Grow Pass is still available! Purchase it from the store to claim the new Item of the Season Clam Cruiser, and it's royal version, Royal Clam Cruiser along with xArskax's Subscriber Item, the Purple Scarf.
The Growtopia Survey for September 2021 Update is still open! By completing the survey you will receive 1 Growtoken if you have Advanced Account Protection enabled. Complete the survey and claim your reward on your mobile device to let us know what you think!
Don't forget to join our Official Growtopia Discord Server on discord.gg/growtopia or click the link below!
Visit our Social Media pages for more Content!

Contribute
Get started by first taking a look at the wiki's policies and guidelines.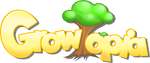 Growtopia is a sandbox platformer MMO developed by Ubisoft with a focus on crafting and community.
Available FREE on PC, Mac, iOS & Android
Growtopia
is copyright 2021 Ubisoft. The
Growtopia Wiki
is in no way affiliated with Ubisoft or Growtopia.