Welcome
The Growtopia Wiki is a free encyclopedia about Growtopia that anyone can edit, including you! We have 5,633 articles and counting since 12 December 2012.
The Growtopia Gazette

February 24th: Premium Subscription Gem Increase!
Great news for 365-Day and 30-Day premium subscribers! Sparkle up your life as we are increasing the free daily gems to 4,000! Definitely more value for the same price so don't forget to play every day and claim your reward!
And the Growtopia Survey for the February Updates is still open! Complete the survey on your mobile device to let us know what you think!
The new Item of the Month Perilous Pirate Ship and Dispersing's Subscriber Item Stylish Draped Trench Coat are out now as well!
Don't forget to join our Official Growtopia Discord Server on discord.gg/growtopia or click the link below!
Visit our Social Media pages for more Content!

Contribute
Get started by first taking a look at the wiki's policies and guidelines.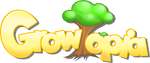 Growtopia is a sandbox platformer MMO developed by Ubisoft with a focus on crafting and community.
Available FREE on PC, Mac, iOS & Android
Community content is available under
CC-BY-SA
unless otherwise noted.