Welcome
The Growtopia Wiki is a free encyclopedia about Growtopia that anyone can edit, including you! We have 6,124 articles and counting since 12 December 2012.
The Growtopia Gazette

January 14th: Voucher Dayz!
Why so serious? Feel a change in your mood with the Mood Mask now available in the store! Purchase selected Gem Packs from the store to earn vouchers and redeem them against special store packs and exclusive cosmetic items. Get more than what you pay for during this event from the 1 4th to the 16th of January. Enjoy!
Make sure to read the announcement below for more details!
Shield yourself with this January's Grow Pass Item of the Season, Guardian Armor and its royal version, Royal Guardian Armor! Also, don't forget to check out the newest Subscriber's Item of the Month, the Earth Suit, chosen by Discold!
The Growtopia survey for the December Update is now open! By completing the survey, you will receive 2 Growtokens if you have Advanced Account Protection enabled. Complete the survey and claim your reward on your mobile device to let us know what you think!
Don't forget to join our Official Growtopia Discord Server on discord.gg/growtopia or click the link below!
Visit our Social Media pages for more Content!

Contribute
Get started by first taking a look at the wiki's policies and guidelines.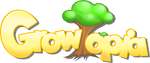 Growtopia is a sandbox platformer MMO developed by Ubisoft with a focus on crafting and community.
Available FREE on PC, Mac, iOS & Android
Growtopia
is copyright 2022 Ubisoft. The
Growtopia Wiki
is in no way affiliated with Ubisoft or Growtopia.