Welcome
The Growtopia Wiki is a free encyclopedia about Growtopia that anyone can edit, including you! We have 5,932 articles and counting since 12 December 2012.
The Growtopia Gazette

September 1st: Item of the Month!
Get entranced with the eternal cyclic power of September's Item of the Month, the Ouroboros Charm, and drift through the high waves with SolaBowe's Subscriber's Item, Stingray Hat!
We are also introducing a new thrilling pack, the Gem Abundance Pack. This plentiful pack will reward you with 1,850,000 Gems, 10 Growtokens and 5 Megaphones for only 49.99 USD.
Find more details in our announcement here:
The Growtopia Survey for Player Appreciation Week 2021 is now open! By completing the survey you will receive 3 Growtokens if you have Advanced Account Protection enabled. Claim your reward and complete the survey on your mobile device to let us know what you think!
Don't forget to join our Official Growtopia Discord Server on discord.gg/growtopia or click the link below!
Visit our Social Media pages for more Content!

Contribute
Get started by first taking a look at the wiki's policies and guidelines.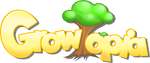 Growtopia is a sandbox platformer MMO developed by Ubisoft with a focus on crafting and community.
Available FREE on PC, Mac, iOS & Android
Growtopia
is copyright 2021 Ubisoft. The
Growtopia Wiki
is in no way affiliated with Ubisoft or Growtopia.