---
HALLOWEEN - Two new items in the store: Spiritual Resonator (A hat that looks like the Brainwave Capacitor except that it summons a ghost) and the Gift of Growganoth if you're too scared to face Growganoth in person!
If you aren't too scared, visit the world GROWGANOTH and dare to sacrifice your ordinary items for amazing new spooky ones!
This event typically begins some time during the week of Halloween (October 31st).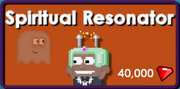 The main portion of this event is the special world named 'Growganoth' (GROWGANOTH1 - GROWGANOTH150 are also available). Here, you can drop items for different "Spooky" items, receiving back an item of equal or lesser rarity. Growganoth accepts a few special trades as well, which will always return a specific item back.
Growganoth will reject items of Rarity 200 and greater, unless it is one of the special trades.
2013 Items:
2014 Items
Community content is available under
CC-BY-SA
unless otherwise noted.