Holiday Cheer Bomb (Rarity: 125)
Nothing speaks of peace, love, and joy more than a bomb. Throw it at your friends!
Properties
This item never drops any
seeds
.
This item can only be created during
WinterFest
!
Data
Type
Consumable
Chi
Fire
Texture Type
Single
Collision Type
Full Collision
Hardness
3 Hits
3 Hits
Restores after 4s of inactivity.
Seed Color

#75FF1F
#FF9393

Grow Time
3w 1d 15h 34m 35s
Default Gems Drop
0 - 32
The Holiday Cheer Bomb is an unsplicable consumable that was added on WinterFest 2014. This item can only be created during WinterFest.
Function
When consumed, a bunch of ornaments and mistletoe explode out and stays there for 10 seconds.
Gallery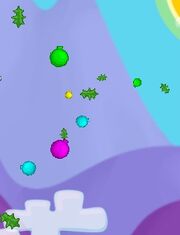 Community content is available under
CC-BY-SA
unless otherwise noted.