Ice Dragon Hand
Description missing.
Properties
This item never drops any
seeds
.
This item can only be created during WinterFest!
Data
Type
Hand - Clothes
Chi
None
Texture Type
Single
Collision Type
Full Collision
Hardness
0 Hits
0 Hits
Restores after 0s of inactivity.
Seed Color

#4BD1AD
#6DD8FF

Grow Time
1h 0m 0s
Default Gems Drop
N/A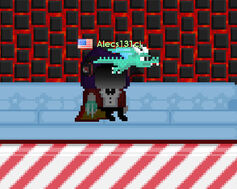 In-game description:
"Another of the Dragons of Legend! Please be aware the legends may have been a bit exaggerated."
This item can't be spliced.

This item can only be created during WinterFest!
This item never drops any seeds.
Additional Info
To create the Ice Dragon Hand, you must mix 1 Transmog Crystal, 1 Dragon Hand, and 20 Snowballs in a Chemical Mixer. The recipe only works during WinterFest. This item was added on December 25th, 2013.
This item applies the "Dragonborn" mod, which causes blocks to break faster, like a pickaxe, as well as pushing players back farther when punching, like a Just One Boxing Glove. The Ice Dragon also spews forth an icy mist rather than punching or spewing fire like its Dragon Hand counterpart.
When equipped: "You command a mighty (cool) dragon!"
When removed: "Your dragon has abandoned you."
Community content is available under
CC-BY-SA
unless otherwise noted.