Jellyfish (Rarity: 56)
Beware of the painful sting of this sea creature! Also beware of the folk remedies for fixing it...
Properties
This item can be placed in two directions, depending on the direction you're facing.
Data
Type
Pain Block (Spike) - Foreground
Chi
Water
Texture Type
Vertical
Collision Type
Full Collision
Hardness
4 Hits
3 Hits
Restores after 3s of inactivity.
Seed Color

#BB2EBC
#F5AFF5

Grow Time
2d 1h 14m 56s
Default Gems Drop
0 - 15
Paint Preview
None
Red
Yellow
Green
Aqua
Blue

Purple
Charcoal
The Jellyfish is a hazardous block which acts like Acid. If placed connecting vertically, the jellyfish will extend into one longer jellyfish.
Trivia
The item is also a possible drop from Fishing.
The item can be found in Undersea Blasted worlds.
When a Jellyfish is placed on the top of the world, only the tentacles will be shown.
Gallery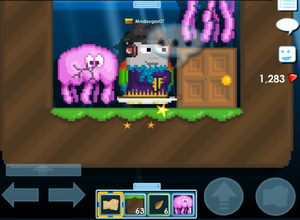 Community content is available under
CC-BY-SA
unless otherwise noted.