Loving Halo
A sign of a truly gracious and adoring soul. This halo marks you with love and adoration, healing you quickly with the power of the heart! Aww!
Properties
This item never drops any
seeds
.
Data
Type
Hat - Clothes
Chi
None
Texture Type
Single
Collision Type
Full Collision
Hardness
0 Hits
0 Hits
Restores after 0s of inactivity.
Seed Color

#FFE50B
#C42430

Grow Time
1h 0m 0s
Default Gems Drop
N/A
Curing Broken Heart
The Loving Halo is an unsplicable hat item that was added as part of Blocktor's Orders! update.
Function

   It's the power of love!

   Where is the love!
The item grants the Healing: Loving Halo! mod which heals the player faster than usual after receiving damage from hitting Lava or any other pain blocks.
Gallery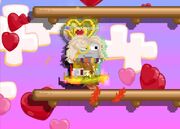 Community content is available under
CC-BY-SA
unless otherwise noted.