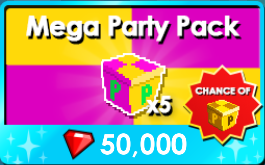 During Anniversary Week
Growtopia Store
Purchase the Mega Party Pack for 50,000
in the Growtopia Store.
"The ultimate way to get your party started. Turn any world into a party world with the mega party pack. Each box will cause the Anniversary Party event to occur in your world instantly, and is consumed when used. Only available during Anniversary Week! BONUS: With every purchase there is a chance that 1
Party-In-A-Box
will become a
Golden Party-In-A-Box
!"
Every purchase will give 5 items.
This pack was released on the 6th of January, 2022, as part of the Anniversary Week 2022 update.
Items
Pack includes:
or, more uncommonly: