Pastel Pants (Rarity: 4)
It's like springtime all up your business!
Properties
This item never drops any
seeds
.
This item can be transmuted.
Data
Type
Pants - Clothes
Chi
None
Texture Type
Single
Collision Type
Full Collision
Hardness
0 Hits
0 Hits
Restores after 0s of inactivity.
Seed Color

#FFF4C9
#FFE3FF

Grow Time
3m 4s
Default Gems Drop
0 - 1
Splicing
The tree of this item can be made by mixing the following seeds:
Pastel Pants is a splicable leg item that was added on Easter Week 2013. It can also be obtained from purchasing Easter Basket for 5,000 gems.
Gallery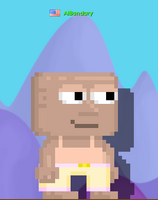 Community content is available under
CC-BY-SA
unless otherwise noted.