Phonecats Hat
Description missing.
Properties
This item never drops any
seeds
.
Data
Type
Hat - Clothes
Chi
None
Texture Type
Single
Collision Type
Full Collision
Hardness
0 Hits
0 Hits
Restores after 0s of inactivity.
Seed Color

#808080
#404040

Grow Time
1h 0m 0s
Default Gems Drop
N/A
In-game description: "The one and only!"
The description WAS planned to be a secret, though Phonecats revealed the description for half a second in one of his Growtopia Videos, revealing the secret of the Phonecats Hat.

Phonecats Hat is a headwear item given to Phonecats, known in-game as pcats. The hat resembles the Phonecats logo.
The hat was given to Phonecats by @Hamumu, who left a comment on his video, leaving a thanks and telling him to check his inventory.
Phonecats is a Growtopia YouTuber and Live Streamer who helped invite people to Growtopia in the early stages of its development
You can watch his Videos in www.YouTube.com/phonecatss
AND watch him LIVE on twitch.tv/phonecats! How's that!
Previous version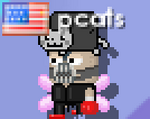 Originally the hat resembled the old PhoneCats logo: the cat from the popular Nyan Cat Internet meme with a tablet in the place of the Pop-Tart. Along with the Nyan Hat at the time, this was changed to avoid getting a potential copyright lawsuit, in light of Nyan Cat's copyright owner suing Warner Bros. for the unauthorized usage of the character.
Community content is available under
CC-BY-SA
unless otherwise noted.