Pinata Whistle
Call your friends, then blow the whistle for a Piñata Bash!
Properties
This item never drops any
seeds
.
Data
Type
Consumable
Chi
Wind
Texture Type
Single
Collision Type
No Collision
Hardness
3 Hits
3 Hits
Restores after 4s of inactivity.
Seed Color

#F3A86B
#EFE03B

Grow Time
1h 0m 0s
Default Gems Drop
N/A
Growtopia Store
Purchase the Pinata Whistle for 5,000
in the Growtopia Store.
"Having trouble finding a Piñata to smash? Want to keep the party going after Cinco De Mayo is over? Grab a Piñata Whistle and you can start a Piñata Bash anytime you want! Whistles only work once, and make sure you have some friends nearby, because it's impossible to smash an Ultra Piñata yourself!"
The Pinata Whistle is a consumable only obtainable through the Store for 5,000 gems. It can only be purchased during Cinco De Mayo Week.
Function
When used, an Ultra Pinata Event will occur spawning an Ultra Pinata. All players in the world can smash it as it moves around the world. The last few players to punch it will receive various Cinco De Mayo items.
Trivia
When first introduced, the item cost 1,000 Gems, however, was increased to 5,000 Gems during Cinco De Mayo Week 2017.
Gallery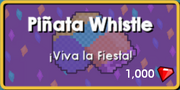 Community content is available under
CC-BY-SA
unless otherwise noted.