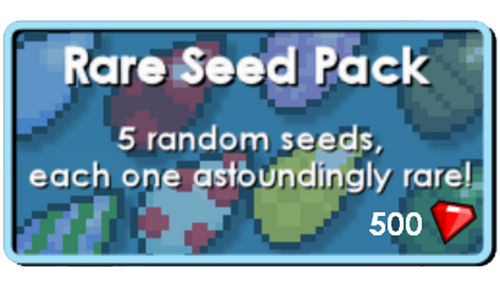 Growtopia Store
Purchase the Rare Seed Pack for 1,000
in the Growtopia Store.
"You'll get 5 randomly chosen rare seeds. Expect some wondrous crops with these!"
Every purchase will give 1 item.
The Rare Seed Pack (item) is a consumable that when used, gives the player a Rare Seed Pack (pack) with rarities lying between 13 and 60. It currently has 252 different types of seeds.
Prior to Day 6 of the Player Appreciation Week in 2020, the cost of a pack was 500 Gems. This was increased to 1,000.
Rare Seed Pack List
This is an updated list of all the seeds, in order by rarity.