Item Of The Month
This item is November 2019's Item Of The Month
 Red Laser Scimitar
Carve the very air itself with energy-edged annihilation! Designed to exacting standards by Growtech's Department of Slicing & Dicing, this blazing red blade will show your foes that when it comes to bleeding-edge weaponry, you can't beat an edge made of LASERS!
Properties
This item never drops any
seeds
.
Data
Type
Hand - Clothes
Chi
None
Texture Type
Single
Collision Type
Full Collision
Hardness
0 Hits
0 Hits
Restores after 0s of inactivity.
Seed Color

#707070
#EE1E3B

Grow Time
1h 0m 0s
Default Gems Drop
N/A
Unobtainable
This item does not have any recipe because it is no longer, or was never obtainable.
The Red Laser Scimitar is an unsplicable hand item which was added on November 1, 2019. The item, along with the Blue, Red, Purple, and Green Laser Scimitars were possible drops from purchasing November 2019's Item Of The Month for 200,000 Gems.
Function

   Feel the power of the dark side!

   Tucked away for safe keeping!
When equipped, it will grant the player the Punch Power + Build Range: Laser Scimitar which allows the player to punch other players farther and build blocks farther.
Gallery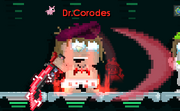 Community content is available under
CC-BY-SA
unless otherwise noted.