Ruby Necklace
It's a red rock on a metal string. But I guess people like that!
PropertiesData
Type
Chest - Clothes
Chi
None
Texture Type
Single
Collision Type
Full Collision
Hardness
0 Hits
0 Hits
Restores after 0s of inactivity.
Seed Color

#CDDDDF
#FF160B

Grow Time
1h 0m 0s
Default Gems Drop
N/A
The
Ruby Necklace
is an unsplicable chest item introduced during
Valentine's Week
2014. It is available throughout
Valentine's Week
, this item can be obtained from breaking
Heartstone Deposits
and
Golden Booty Chest
, or from buying the
Valentine's Goodies
pack.
Gallery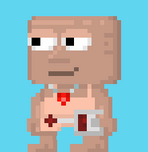 Community content is available under
CC-BY-SA
unless otherwise noted.