Sand (Rarity: 1)
Is it a desert or a beach? You decide!
Properties
None
Data
Type
Block - Foreground
Chi
Earth
Texture Type
8 Directional
Collision Type
Full Collision
Hardness
3 Hits
3 Hits
Restores after 8s of inactivity.
Seed Color

#E6D15A
#FFFFDD

Grow Time
31s
Default Gems Drop
0 - 1
Sand
is a basic block, naturally found in
Beach Blasted
or 
Desert Blasted
worlds and can be obtained from smashing a
Summer Surprise
. It is a retextured version of
Dirt
.
Function
Below is a list of trees which can possibly be made by splicing a Sand Seed with another seed.
Trivia
Placing 2 Sands next to each other will cause them to connect, creating a continuous pattern.
The sprite of Sand is a recolor of Dirt's.
Gallery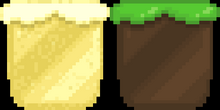 Community content is available under
CC-BY-SA
unless otherwise noted.