▶Available in Store
Shop Pack ( 10,000

)
Run a fancy shop with these new items! You'll get 4 Display Boxes to hold items, 4 different kinds of signs to advertise your wares, an Open/Closed Sign you can switch with a punch, a Cash Register, a Mannequin you can dress up to show off clothing, and a Rare Security Camera, which reports when people enter and take items!
Shop Pack
is an items pack which was added to the game on January 24, 2014.
Contents
This Pack includes:
Gallery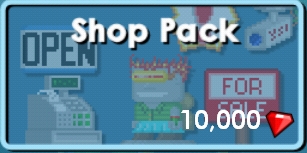 Community content is available under
CC-BY-SA
unless otherwise noted.