Silverstar Bow
Forged from stardust, aether winds, and purest silver, this beautiful bow belongs amongst the heavens - you must have been incredibly fortunate to count it among your possessions. Well, that or you're just a really good trader. Either way, let's shoot some stuff!
Properties
This item never drops any
seeds
.
This item can kill zombies during a Pandemic!
Data
Type
Hand - Clothes
Chi
None
Texture Type
Single
Collision Type
Full Collision
Hardness
0 Hits
0 Hits
Restores after 0s of inactivity.
Seed Color

#CED3D5
#859094

Grow Time
1h 0m 0s
Default Gems Drop
N/A
▶Chance from Consuming
Deluxe Winterfest Cracker
Uses up 5
Winterfest Crackers in one's inventory.
The Silverstar Bow is an unsplicable hand item which shoots silver arrows, introduced during WinterFest 2017.
Gallery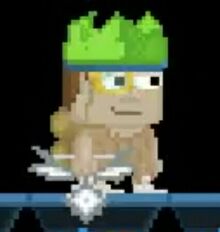 Community content is available under
CC-BY-SA
unless otherwise noted.