Snorkel (Rarity: 15)
The trick is putting liquid soap inside the snorkel!
Properties
This item never drops any seeds.
Data
Type
Face - Clothes
Chi
None
Texture Type
Single
Collision Type
Full Collision
Hardness
0 Hits
0 Hits
Restores after 0s of inactivity.
Seed Color

#3E8FDE
#4A4A4A

Grow Time
1h 3m 45s
Default Gems Drop
0 - 3
The tree of this item can be made by mixing the following seeds:

Bathtub Seed

Glass Pane Seed
A snorkel is a splicable face item. When worn, it shows an animation where bubbles slowly float up in front of the users face similar to the Turtle Hat.
Gallery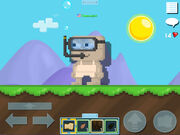 Community content is available under
CC-BY-SA
unless otherwise noted.