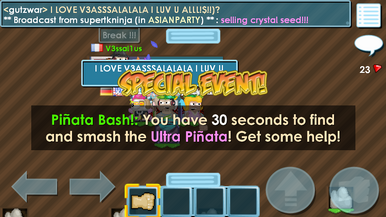 Special events can happen anywhere, anytime. There needs to be at least one person in the world for an event to spawn, the more people the higher the chance an event will spawn. There are two ways to activate an event:
You may purchase an item (such as the Piñata Whistle) which allows you to activate the an event anywhere, anytime you please.
The server randomly chooses a place to spawn an event at times.
Types of Special Events
| Event | Description |
| --- | --- |
| Beautiful Crystal | You have 30 seconds to find and grab the Crystal Block Seed. |
| Magical Seeds | You have 30 seconds to find and grab the 4 Mystery Block Seeds. |
| Chemical Spill | Toxic Waste spawns everywhere. |
| Deathmatch! | Killing people gives you some (1 to 3) of their gems for a short while. |
| Jackpot! | Gems are spawned throughout the world. |
| Spoiler Alert | You have 30 seconds to find the 10 pieces of the Secret Of Growtopia around the world. |
| Desert Blast | You have 30 seconds to find and grab Desert Blast. |
| Dr. Destructo Event | You need to defeat Dr. Destructo by punching him, before he escapes. |
| Wild Unicorn Hunt | You have 30 seconds to find an Awkward Friendly Unicorn before it escapes! |
| Well, Well, Well | You have 30 seconds to find the 3 Well blocks hidden around the world! |
| Lost Gold | You have 30 seconds to find the Gold Choker hidden in the world! |
| Howling At The Moon | You have 30 seconds to find 3 Wolf Whistles hidden in the world! |
| What's that? | You have 10 seconds to find and grab the Doohickey. |
| Wild Fire | A fire has spawned in your world! |
| Lock-Bot Malfunction | Lock-Bot has come to your world by accident! |
| That's Puzzling... | You have 20 seconds to find the 20 Jigsaw Wallpapers hidden in this world! |
| Crime in Progress! | A random villain spawns in your world. |
| Anniversary Party | You have 30 seconds to collect the 4 Party items spawned in your world! It only occurs during Anniversary Week, or by using a Party-In-A-Box. |
| Share The Love! | You can spawn a few gems every time you type /love or /kiss, lasts a few minutes. It only occurs during Valentine's Week. |
| Valentine's Card | You have 30 seconds to collect the 5 Valentine's Dust spawned in your world! It also gives the player who received the Valentine's Card a Golden Booty Chest. |
| Rabid Leprechaun Attack! | Sudden death for every Growtopian in the world containing the event. Leprechaun will run away and you will have to find it in 30 seconds. The prizes will be Pot O' Gold! It only occurs during St. Patrick's Week. |
| Luck of the Growish | Green Beer and Lucky Clover spawn everywhere. Usually 5 each. It only occurs during St. Patrick's Week. |
| Egg Hunt | Go find them eggs! 20 Magic Eggs will spawn in the world. It only occurs during Easter Week. |
| Pinata Bash Event | You have 90 seconds to chase and smash the Ultra Pinata in order to grab its goodies. It only occurs during Cinco De Mayo Week or by using a Pinata Whistle. |
| Summertime Surprise | A Summer Surprise has spawned! It occurs randomly during SummerFest. It also has a small chance of spawning by using Fireworks during the said event. |
| Songpyeon Event | 3 Songpyeon spawn in your world, you have 30 seconds to collect them. It only occurs during Harvest Festival. |
| Mooncake Madness | You have 30 seconds to find all the 40 Mooncakes scattered around the world! It only occurs during Harvest Festival. |
| Let it Snow! | You have to collect 30 snowballs before they melt! It only occurs during WinterFest. |
| Spirit of Giving! | Winter Gifts are spawned everywhere in a world. It only occurs during WinterFest. |
| Present Goblin Disguise | You will spawn toys for 30 seconds which you cannot pick up. Occurs during WinterFest only. |
| Beat The Heat | Cool off with some free Water Buckets. |
| Jungle Blast | You have 30 seconds to find 1 Jungle Blast. |
| Playful Sprite | You have 15 seconds to find a Playful Sprite. |
| Festive Spirit | You have 30 seconds to find all 5 Winterfest Crackers hidden in the world. |
| Turkeys Surprise! | You have 90 seconds to catch all Thanksgiving Turkeys before they Run! Go get it with your Friends! |