Turkey Onesie Tail
Look your Thanksgiving best with this wobbly tail! Gobble gobble gobble!
Properties
This item never drops any
seeds
.
This item can be transmuted.
Data
Type
Back - Clothes
Chi
None
Texture Type
Single
Collision Type
Full Collision
Hardness
0 Hits
0 Hits
Restores after 0s of inactivity.
Seed Color

#903611
#EF9B1F

Grow Time
1h 0m 0s
Default Gems Drop
N/A
The Turkey Onesie Tail is an unsplicable back item which was added on Thanksgiving Week 2017 Day 6.
Trivia
In 2017, a Turkey Onesie Tail could be obtained as a random drop from smashing blocks on the sixth day of Thanksgiving Week 2017.
Gallery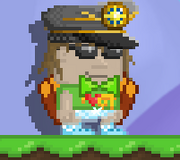 Community content is available under
CC-BY-SA
unless otherwise noted.