watch 02:43
The Loop (Games)
In store description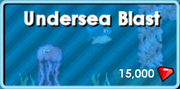 "Explore the ocean! This advanced device will terraform a new world set up like the bottom of the ocean, with a special ocean background, and special blocks like Seaweed, Coral, Jellyfish, Shark, and maybe a special surprise... Remember, by using this you are creating a NEW world by typing in a new name. You can't convert an existing world to an ocean, that would be dangerous."
In game description (item):
"Use this astounding device to create an entirely new undersea world. Water included!"
This item can't be spliced.
This item never drops any seeds.
Additional Info:
This item was released on the 11th of April, 2014. It can be purchased from the "Weather Machines" store section for 15,000 gems.
Community content is available under
CC-BY-SA
unless otherwise noted.