PROFILE AND BACKSTORY: (Picture of me below)
(Gee, I didn't know anyone cared about me.) 
Hai! I'm UnderAverage, but you can call me Ian. (My In-Game-Name is SylvnRlc, because I can't bother to stop changing my name and wasting World Locks on Birth Certificates -.-). I loved to play Growtopia starting when I was about 12, and joined during Harvest Festival of 2016. I played for a long time but quit (supposedly officially at the time) in February of 2017; I had gotten an ATM Farm scammed in Trade. But I couldn't fight the urge to completely stop, so in October of the same year, I had joined again at the time of the Ancestral Power update. It's great to be back and spending time with the great (and occasionally ridden with 9-year-olds) community. "Jenuine"ly. (Heh.)
FEW SIMPLE FACTS:
My Dream Item: Focused Eyes or a Heavenly Scythe.
Worlds Owned: SYLVNRLC, SYLVNOLD, IANMFARM, WAIFURADIO, BRUDDAHVEND, MYWLT, PJA1, and more.
Time Online: 9:00-11:00 AM (EDT), 1:00-6:00 (EDT)
Net Worth: About 20 Diamond Locks
Most Expensive Item I Possess: My Ancestral Totem of Wisdom, which is Level 5/Max Level. It's Untradeable, but is worth about 1800-1900 World Locks when upgraded.
Carnival Rings I Own: The One Ring, Gemini Ring. Ring of Force, Ring of Water. (I want a Ring of Smithing or Winds next.)
Friends Who Never Die: PastDeath, NotABuck, NotOnCrack, Bentleyw12, NotFlat, ViP (Yes, I'm friends with ViP), KevinTrggs, thechiken21, sirjustice, GrayRocket, TimmyJ, ExiledHero, KrypticR, Vainst, Andwu, Vaggahama.
Personal Goals:
-To become a Discussion Moderator on this Wiki
-Get a pair of Focused Eyes
-Get a Mini-Me
-Steal all Rings from the Ringmaster
-Interview either WickEr10, LearnToGame, or PeterW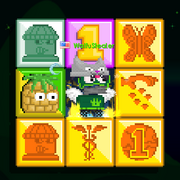 Community content is available under
CC-BY-SA
unless otherwise noted.