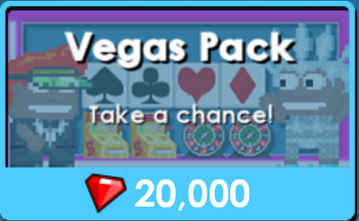 The Vegas Pack is an item pack which was added on May 24, 2013.
Items
The pack contains the following items:
Trivia
The Zeta Reticulant Mask, Red Growsaber, Green Growsaber, Blue Growsaber, Black Growsaber, Double Growsaber and the Flamesaber were also implemented into the game alongside this pack.
On March 2, 2014, the pack was removed from the store and reintroduced on April 26, 2014, costing 20,000 Gems instead of 5,000 with the Pink Cadillac replacing the Rabbit's Foot.
Gallery