Water Bucket (Rarity: 12)
Splash it around to make things wet. It can also scoop up water, though there's a good chance you'll just spill it. Butterfingers.
Properties
None
Data
Type
Consumable
Chi
Water
Texture Type
Single
Collision Type
No Collision
Hardness
3 Hits
3 Hits
Restores after 4s of inactivity.
Seed Color

#377AAF
#A7A7A7

Grow Time
34m 48s
Default Gems Drop
0 - 3
Splicing
The tree of this item can be made by mixing the following seeds:
Water Bucket is a consumable which is used to place water in a world. It slows any player who walks through it unless they are wearing Swim Fins, Ring Of Water, Mermaid Tail, Megalodon, or Demon Megalodon. If a player is wearing a Sea Monster Floatie or Water Wings, they will automatically float to the top of the water. In order to remove water, a Water Bucket must be used on the water to remove it, with a small chance of not getting it back. If a player is wearing a Surfboard, it will cause them to "walk" on water.
Trivia
Worlds which have been Undersea Blasted will be automatically filled with water.
Beach Blasted worlds also have water automatically spawned in the world.
Water Buckets can be used to feed Silkworms.
Using a Water Bucket in an area which the player does not own will just splash a few drops of water.
The seed is a rare drop from harvesting from a Water Bucket tree or can be obtained from the Small Seed Packs.
Players standing in water will look like they are holding their breath underwater.
Gallery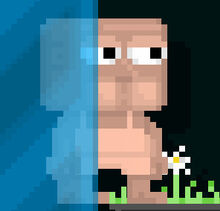 Community content is available under
CC-BY-SA
unless otherwise noted.