Western Building (Rarity: 12)
This isn't a real building, it's just a painted piece of plywood.
Properties
None
Data
Type
Wallpaper - Background
Chi
Unknown
Texture Type
4 Directional
Collision Type
No Collision
Hardness
3 Hits
3 Hits
Restores after 6s of inactivity.
Seed Color

#A3682A
#AE4D0D

Grow Time
34m 48s
Default Gems Drop
0 - 3
Paint Preview
None
Red
Yellow
Green
Aqua
Blue
Purple
Charcoal
The tree of this item can be made by mixing the following seeds:

Western Building is a background block. It can be obtained by purchasing the Wild West Pack for 8,000 Gems (10 come with the pack).
Gallery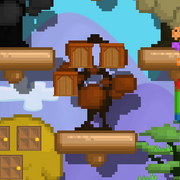 Community content is available under
CC-BY-SA
unless otherwise noted.