White Fury
This thoroughbred steed is burning with furious power. Sponsored by Hercule, PRONGS and HERMIUS.
Properties
This item never drops any
seeds
.
Data
Type
Feet - Clothes
Chi
None
Texture Type
Single
Collision Type
Full Collision
Hardness
0 Hits
0 Hits
Restores after 0s of inactivity.
Seed Color

#D9D9D9
#1DBAFF

Grow Time
1h 0m 0s
Default Gems Drop
N/A
White Fury
is a feet item which was added during the 2015
SummerFest
. It can be obtained by using the 
Super Fireworks
 as well as smashing a 
Summer Surprise
 or finding it in a
Chest
in a beach blasted world.
Gallery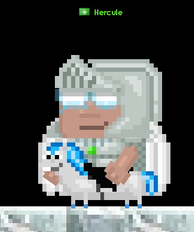 Community content is available under
CC-BY-SA
unless otherwise noted.