The World Of The Day, abbreviated as WOTD, is a daily award that was added on 2013. Previously, it was chosen by @Seth, now, it is chosen by the Ubisoft moderators.
Contestants can nominate their worlds by posting it on the Growtopia Forums or by posting it on instagram with a certain hashtag (correct hashtags are posted on forums every WoTD cycle).
Rewards
If a world is awarded with WOTD, the world receives the 'WOTD Winner' label, which can be seen when entering the world. The world also appears in the list of World Of The Day Winners.
In addition, their world is featured on the Growtopia Gazette. The current World Of The Day can be seen on the top right corner of the growtopiagame.com Growtopia Website.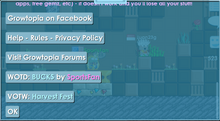 Trivia
The first World Of The Day was NASA11 by BBongi.
As of 1 April 2018, winning WOTD would no longer reward the player with an Ultra Trophy 3000, but a WOTD Trophy 2018 instead.
Community content is available under
CC-BY-SA
unless otherwise noted.